A STEPS PROJECT
Main Street Art Challenge
Free placemaking services, artist fee subsidies, promotional support and prizes for Business Improvement Areas to host art installations that increase feelings of trust and community across Toronto and Peel main streets as part of their pandemic recovery efforts.

---
PROJECT AT A GLANCE
Location: Toronto and Peel Region
BIAs: Cabbagetown, Chinatown, Danforth Mosaic, Downtown Yonge, Fairbank Village, Gerrard India Bazaar, Leslieville, Malton, Port Credit, Riverside, York-Eglinton 
Artists:  Bareket Kezwer, Caitlin Taguibao, Duncan C. McLean, Erin McCluskey, Fatspatrol, Gosia Komorski, Heidi Berton, Isaiah Haber, Jenn Kitagawa, Jieun June Kim, Lauren Pirie, Lindsay Hill, Linh Thai, Marco Bertuzzo, Michael Brobbey, Nick Sweetman, Rosena Fung, Roshni Wijayasinha, Selina McCallum, Sue Todd, Vesna Asanovic, Wandy Cheng, and Yshmael Cabana
Year: 2020
Services: Public Art Management, Creative Placemaking
41
new works of art created
25
Canadian artists and designers paid for their work
11
Business Improvement Areas supported
$36,500
paid to Toronto area artists and designers
$25,500
in-kind placemaking services provided to participating BIAs
"We believe that placemaking has the power to help revitalize our main streets, and plays a vital role in a holistic, local economic recovery plan."
– Tasneem Bandukwala, Gerrard India Bazaar BIA
PROJECT DETAILS
To support our city and the culture that brings our communities together, STEPS provided artists and Business Improvement Areas (BIAs) with the opportunity to increase feelings of trust and community through DIY art installations.
Presented with RBC Royal Bank, STEPS launched the I HeART Main Street Art Challenge. In only two weeks, over 20 BIAs submitted requests for free coaching to develop their activations, artist introductions, fee subsidies, promotional support and a chance to win prizes to scale their ideas over the pandemic recovery period.
"
This initiative is brightening up our streets. The pandemic has changed our everyday life, but we can still appreciate art and being outdoors with others

."
– Jieun June Kim, 2020 Participating Artist
Through the I heART Main Street Art Challenge, STEPS aims to:
activate

Toronto area main streets in collaboration with local artists

attract

new

customers to local businesses through creative street animations

strengthen

relationships between BIAs through citywide Art Challenge campaigns

create

new public art and activations that reflect local communities

inspire

a sense of belonging and resiliency at a time of physical distancing

support

local residents in feeling safe engaging with their community in public spaces
The 41 activations were brought to life in collaboration with 24 local Toronto area creatives; 13 of whom self-identify as emerging or BIPOC (Black, Indigenous or People of Colour) artists impacted by a loss of income over the COVID-19 pandemic. 
"
STEPS provided an incredibly helpful framework and acted as a creative catalyst to help address current challenges.

"
–

Laura Burnham, Fairbank Village Business Improvement Area
"Art is a great way to showcase the vibrancy and diversity of our community. Partnering with STEPS made sense for us because we share their passion showcasing local talent."
– Natasha McKinnon, Port Credit BIA
Check out the activations featured on our project map!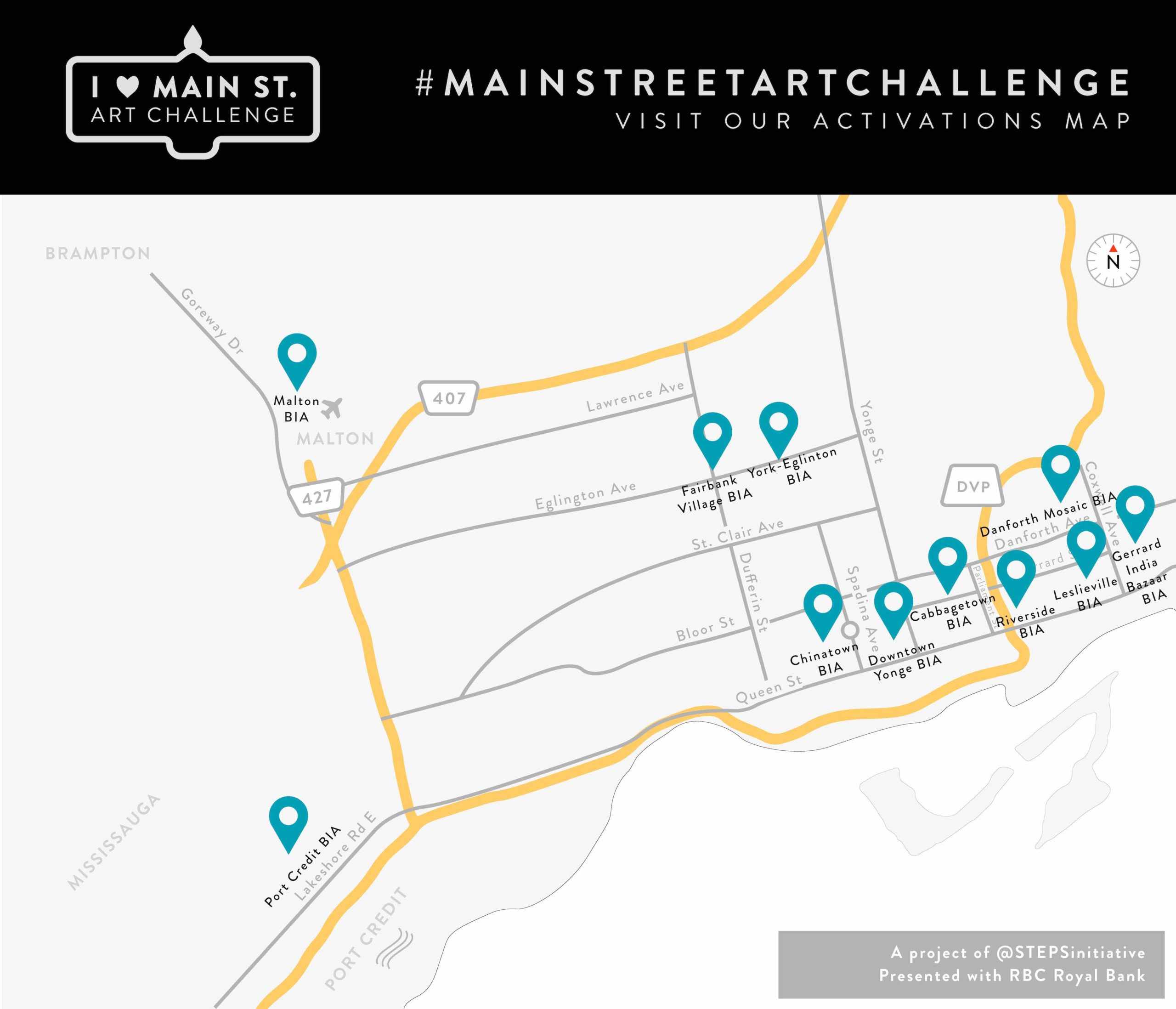 Experience activations by following #mainstreetartchallenge on Instagram or Facebook.
With the support of RBC Royal Bank, STEPS is able to offer prizes to participating BIAs and artists who demonstrate ingenuity, creativity and commitment to their community. Prizes packages are valued over $7500.
The 2020 Main Street Art Challenge Award Selection Committee consists of:
Corrie Jackson (Senior Art Curator, RBC Royal Bank)

Councillor Gary Crawford (Ward 20 – Scarborough Southwest; Mayor's Arts Champion)

Dina Graser (Board Chair, Toronto Arts Council; Canadian Urban Institute)

Zainab Abassi (Planner, Culture and Heritage Planning, City of Mississauga)
"The Art Challenge is a way of bringing hope, vibrancy and beauty to our gathering places."
– Natalie Hart, Malton BIA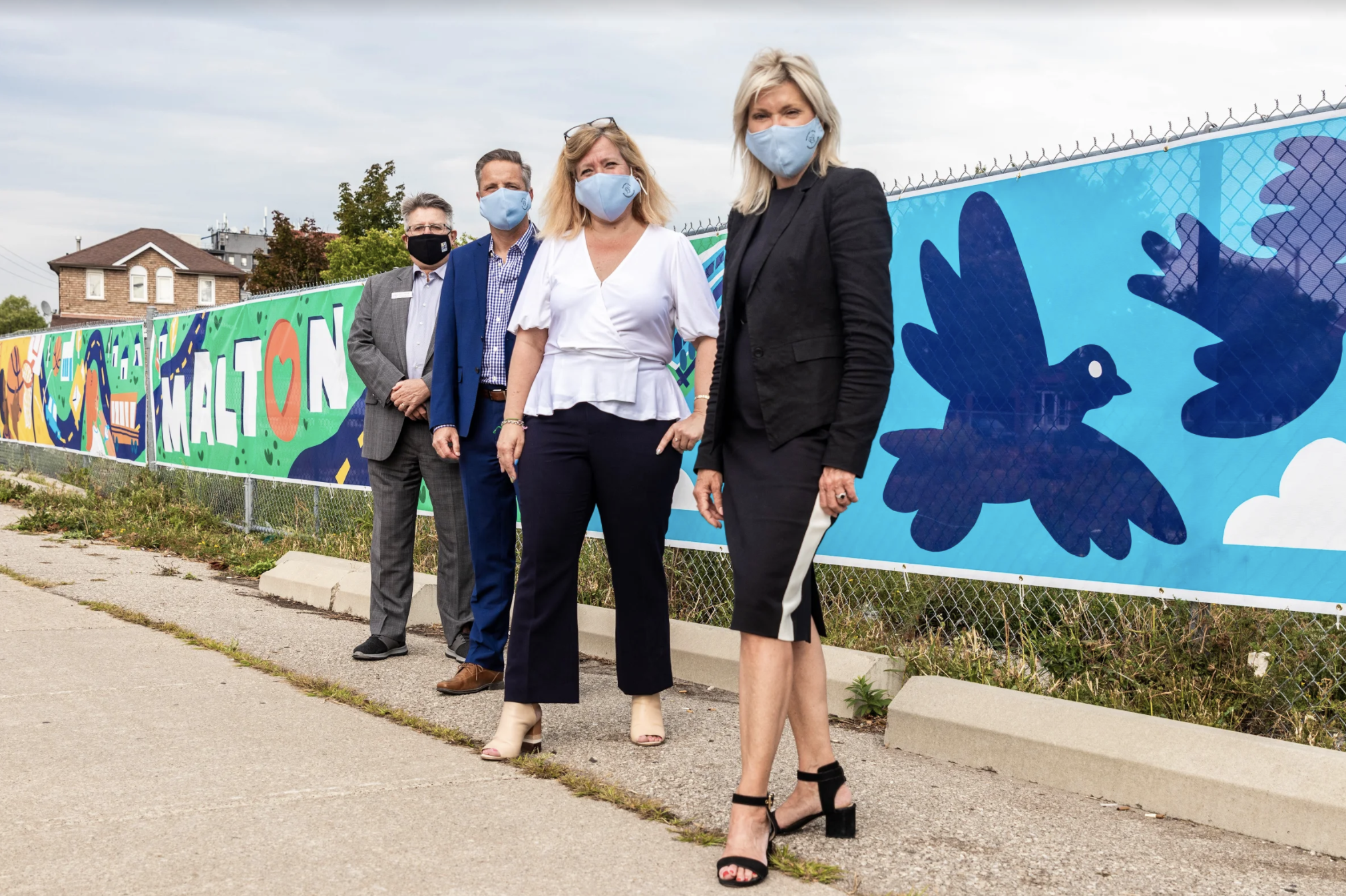 Honourable Mayor of the City of Mississauga Bonnie Crombie visit an activation created by STEPS and artist Lindsay Hill in partnership with Malton BIA.